Dew Drop Inn from the early years til now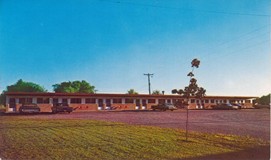 The Dew Drop Inn Motel was built during the 1960's in the age of "mom and pop" motels. It was first named the "Hop Inn Motel" after the original owners, the Hoppe family. The motel started with eight rooms featuring rustic log furnishings typical of the "up north" way of life. The name was soon changed to the Dew Drop Inn Motel and eventually expanded to its current fourteen rooms.
With one brief exception, the motel has been owned and operated by two families since its construction. The original owners and later their daughter's family owned the motel for a combined 25 plus years before the motel was sold in the early 1990's. The present owners are again second generation owners with over 20 years in the family. We are keeping the proud tradition of the small motel alive. Long term family ownership and operation promotes a sense of pride and investment in the property, which reflects in the quality of the motel.
The Dew Drop Inn Motel has built a reputation for excellent housekeeping and well-maintained rooms. Reinvestment in the motel has long been a priority to keep the rooms fresh and current.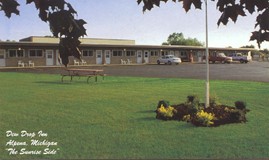 The rooms have come a long way from the 1960's to the 21st century with high speed internet access in every room, refrigerators, 100 TV channels, and a variety of rooms.
Our guests are some of the most wonderful people you could ever meet. We have many guests that have been loyal customers for ten, fifteen, and even twenty years. We believe that repeat guests are the ultimate tribute to our quality and value. Whether you're just passing through Alpena or are a regular guest, we are committed to earning your confidence with each and every visit.