Alpena Michigan Area Information
Just click on any lighthouse to view a picture.
There's something for everyone to enjoy in Alpena. Read on to discover how to make the most of your visit to our "Cool City"!
The largest concentration of lighthouses in the world is right here in the Great Lakes. There are eleven lighthouses within an approximately 90 minute radius of The Dew Drop Inn Motel. Stop in and visit the Great Lakes Lighthouse Museum just north of town to discover a wealth of artifacts and information. Join Alpena in celebrating the Great Lakes Lighthouse Festival, which is held each year on the second weekend of October. Some highlights of the festival include extensive exhibits and crafts, lighthouse tours, guest speakers and entertainment for all. Check out the Light House Festival web site for great information to help you plan your visit.
Fishing enthusiasts can enjoy their sport in a wide variety of ways year round in Alpena. Bring your boat and venture out on Lake Huron with easy access to ramps at Rockport and the downtown Marina. If inland lakes and rivers are more your style, check out the Thunder Bay River and Long Lake. With an oversized parking lot, parking a boat at the Dew Drop Inn Motel makes fishing hassle free and convenient. Don't have a boat? Many full service charters are available from local captains. Area bait and tackle shops like Clem's Live Bait & Tackle and Buck's Bait & Tackle can stock your tackle box and give you plenty of valuable advice. A convenient fish cleaning station at the harbor makes creating those filets and cleaning up a breeze. Join Alpena in celebrating the annual Brown Trout festival held during the third week in July. Try your hand at catching Big Brownie and snagging a share of the $100,000 prize money, as well as plenty of entertainment for all!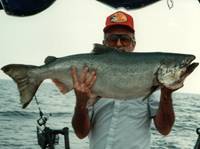 Hunting is another favorite pastime in the Alpena area. From turkeys to deer, there are many public areas to exercise your animal instincts and bag that trophy. Two good sources of hunting information in the Alpena area are Bob's Gun Shop and Michigan's DNRE (Department of Natural Resources & Environment).
A wide variety of parks and beaches await you in Alpena. Take a hike or just sit and enjoy the sights and sounds of nature in the city's Wildfowl Sanctuary (Duck Park) just one half-mile south of the Dew Drop Inn Motel. Soak up the sun at one of several beaches hugging the Lake Huron shoreline. Spend some time in the great outdoors playing a variety of sports, enjoying the playgrounds or sharing a picnic at one of our many local parks.
Do you enjoy diving or the mystery of shipwrecks? Alpena can help satisfy your appetite for the deep. The Great Lakes Maritime Heritage Center features extensive information and exhibits on the estimated 200 historic shipwrecks, from wooden ships to modern freighters, that lie just offshore from Alpena. The 448 square mile Thunder Bay National Marine Sanctuary and Underwater Preserve has shipwreck depths from 12-180 feet and wrecks that date back to 1849.
The Alpena Golf Club is just around the corner from the Dew Drop Inn Motel. It features a traditional 1930's style front nine and a contemporary back nine. Hang out in their snack bar and lounge, spend some time on their driving range or brush up on your game with a lesson or two.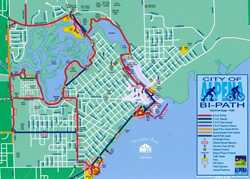 Explore our beautiful city on over 16.5 miles of bike paths that travel through several parks and beaches. In addition, enjoy several other inviting pathways for biking and hiking like Besser Bell Pathway (1 mile hiking), Norway Ridge Pathway (7 miles), and Chippewa Hills Pathway (6.6 miles) for summertime fun. If cross country skiing is your pleasure, most of the pathways are groomed for winter skiing. For more information on Alpena area pathways, try the Thunder Bay Trails Association. The Alpena area offers 73 miles of groomed snowmobile trails to ride your sled. Ride all the way to Mackinaw to the north, and Gaylord and beyond to the west.
Alpena, Michigan offers all this and much more. For more up to date information on events and activities not found here, visit or contact the Alpena Convention & Visitors Bureau (CVB) or copy the following links:
http://www.watz.com/
http://www.alpenanow.com/
http://www.bessermuseum.org/
http://www.artintheloft.com/
http://www.alpenasnowdrifters.org/
http://www.stoneyacreswinery.net/
http://www.alpenadowntown.com/
http://www.michigan.org/City/Default.aspx?city=G2762
http://www.northernlightsarena.org/
http://www.tbrc4me.com/
http://www.thunderbaytheatre.com/
http://www.alpenacivictheatre.com/
http://www.alpenalibrary.org/front/index.html
http://www.alpenaairport.com/
http://www.alpenaregionalmedicalcenter.org/index.php